KAHOOT! of the Month
KAHOOT! games are a fun-based learning platform
Click on the link which will take you straight to the KAHOOT or go to the KAHOOT app on your phone and enter the PIN.
Make or Do
Game-PIN: 05371150
B1+ Conditionals NEW!
Game-PIN: 01196674

A2: a lot/much/many
Game-PIN: 05474157
April Quiz with Prizes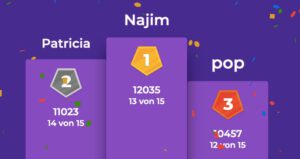 Winners please contact me and claim your prize.
1st place 60 minutes online English lesson
2nd place 30 

minutes, 3rd place 15 minutes
---
QUIZLET
---
Win your "million" with  Email Tips
---
Websites that are good for your personal English training:

British Council (podcasts, videos, grammar and vocab – it's all there)
Information and quiz on comma usage B1+ level
eflnet – a great website to practice vocab and grammar
Simple English Videos with Vicki Hollett
For news: BBC
An easier version: BBC Learning English
For interesting talks and lectures: TED
---
For a list of further English teachers located all over Germany, please go to:
www.englischunterricht-in-deutschland.de